To find your current Coginiti version number, click the question mark icon in the upper right corner of your screen, then select "About Coginiti Premium" or "About Coginiti Pro".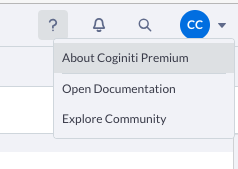 In June 2021, Coginiti team changed the way we track our release numbers.
Old Coginiti version numbers - e.g. v.32 , while short, were very hard for customers to relate to actual scope or release date.
New Coginiti version numbers - e.g. v21.6.119, while a bit longer, mention key information about the release: year.month.build number
This is a common way to track releases and we hope this will be helpful for our users.