All users can schedule their own catalog entries and see their lists of created events.
1. From the main menu select Scheduling and click Manage Scheduled Events to open the scheduling window.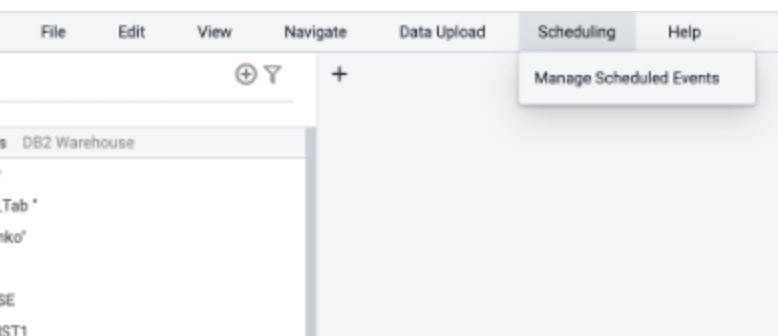 2. Click the Add button in the upper left to create a new scheduled event.
3. Specify a name for your scheduled event. By default, for each new event, Coginiti assigns names such as 'New Schedule1,' 'New Schedule2,' and so on.
4. Provide a meaningful description for the event you're scheduling.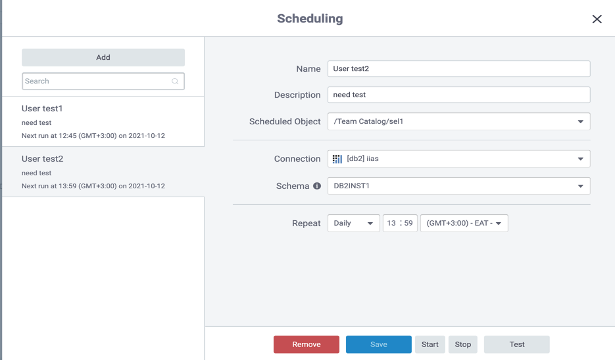 5. In the Scheduled Object field, tap on the arrow symbol and select a catalog object.
🔎 TIP: For details, check out our guide on how to use Catalogs in Coginiti.
🔎 Note: You can see only your own entries with the 'query' sub-type, while the Administrator sees all entries by all users.
Proceed with selecting the connection type from the following options:
Connection
Database
Schema
Warehouse (when needed)
Set the schedule and recurring frequency using the Repeat settings. By default, the Coginiti's time zone box will display your current time zone.
When you're all done with settings, you have the ability to:
Test your schedule (mean check connection)
Save it like a catalog entry
Remove the newly created or any other schedule you have on your list
🔎 Note: If the catalog object you want to schedule contains parameters, you can set them in the Parameters section of the new event:

🔎 TIP: For details, check out our guide on how to use Parameters in your Query.