To start browsing the Catalog, go to the left sidebar ⇨ Click on the Catalog icon in the left menu bar to expand this panel.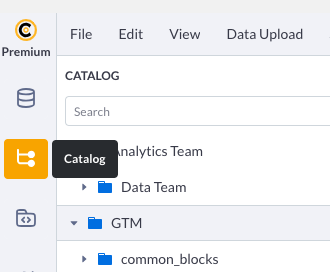 🔎 TIP: You can also search for a particular Catalog asset via our Search Panel.
To view or edit metadata about a Catalog asset, such as the description, right-click on the name and select Edit Details.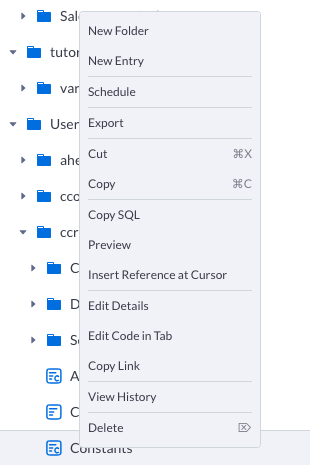 Adding Items to Catalog
There are three ways to create Catalog assets from scratch
Right-click on any existing Catalog asset and select "New Folder" or "New Entry" (see screenshot above).
Right-click on a query editor tab then select "Add to Catalog" to save the editor content to the Catalog.


You can also save a selection of specific lines of SQL code from the query editor, as shown below. Just click on Save Selection to Catalog and provide metadata about a query you are adding in a New Catalog Item pop-up.
You'll then be prompted to fill in the details, such as name, description, and folder.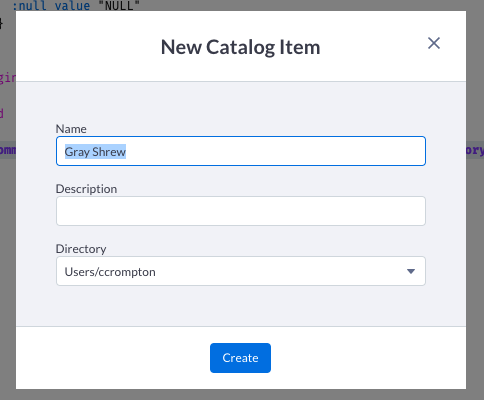 🔎 NOTE: It's important to fill out the description metadata as the search engine will use it. The more data you provide about the usage context and key business terms, the better search results you will get.
Editing Catalog Assets
You can access and edit Catalog assets by right-click on an item and choosing Edit code in tab. Double-clicking on a Catalog asset will perform the same action of opening the asset within a new query editor tab.
To save an edited query, either using the Cmd-S keyboard shortcut, or right-click on the query editor tab and select "Save Tab".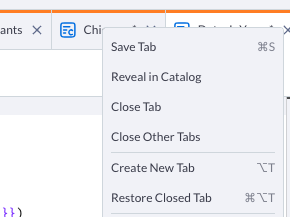 🔎 NOTE: If you see a (*) symbol next to the tab name in a query panel, it means there are pending edits which haven't yet been saved.
Filtering Catalog Assets
Coginiti provides a fast and efficient way to find the asset you want to work with. Use the search box at the top of the Catalog panel to quickly locate all assets that have that word or phrase in their name. Hover over he asset to see the full path.